Your chatbot for network monitoring
Business Chatbot: Citunius Notifier for Icinga
This Business Bot enhances the capabilities of the Icinga monitoring solution for complex IT infrastructures with instant messages. The Icinga plugin seamlessly integrates with the existing monitoring solution and is available as an on-premise and cloud solution.
Respond to critical situations instantly by receiving critical Icinga alerts as instant messages on your mobile device (e.g., Facebook™ Messenger, Microsoft Skype for Business™, Telegram™ Messenger and Threema).
This is especially important if you need to escalate a critical situation to the next person in the chain if the primary person is unresponsive (e.g., vacation, education or illness). In such cases, further steps and actions are required to get business-critical systems back online as quickly as possible.
Alarm messages can be defined for different user groups (administrator, manager, user).
Would you like to know more about this solution?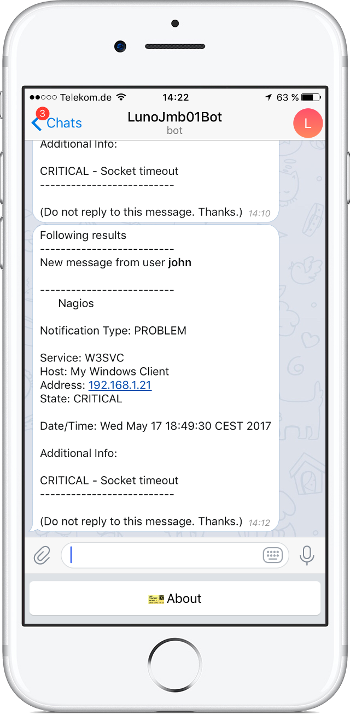 What are the advantages of the Notifier for Icinga?
How does the Notifier for Icinga work?
An alert (e.g., system or service is unavailable) is pushed to the Business Bot Platform by the Icinga plugin (called Icinga Notifier), and the platform takes care of delivering the alarm information as an instant message to various users, distribution lists, or groups.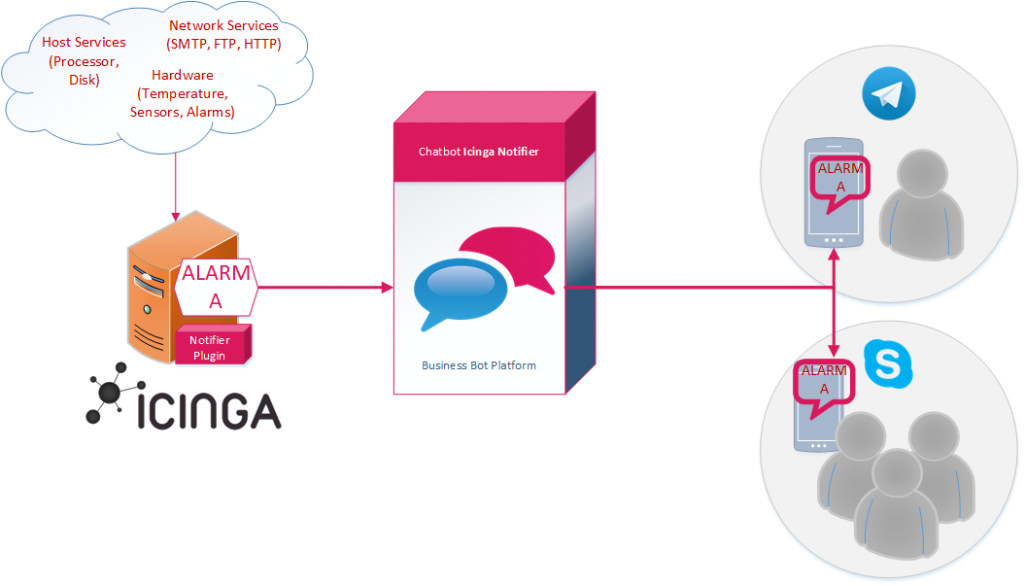 Would you like to know more?